Seating Chart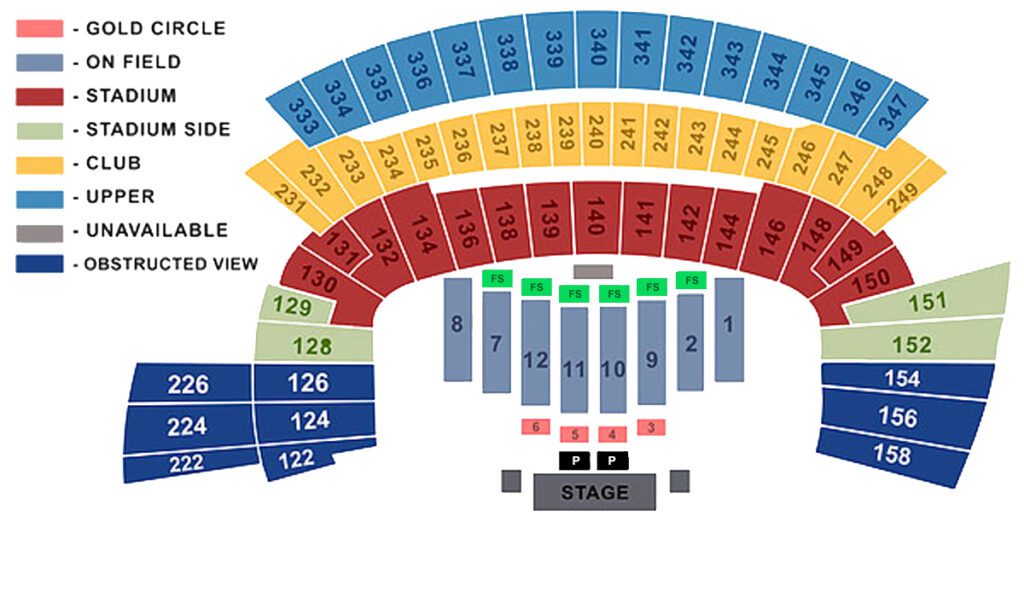 Pit Seats
Inside Secured Stage Area on the Field
Up Close and Personal
Reserved Seat For Each Stage
Included Unlimited Food and Drink, VIP Lounge
Private Restroom Facilities


Silver Field Seats
Sections 10,11
Stage Level on the Field
Behind the First 25 Rows
Field Suite Seats
Sections FS
Inside Secured Stage Area on the Field
Elevated for Better Viewing
Comfortable Seating
Included Unlimited Food and Drink, VIP Lounge
Private Restroom Facilities
Stadium Seats
Sections 142, 144
Stadium Seating Elevated Off Field
Panoramic View of Both Stages
Gold Circle Seats
Sections 4,5
Stage Level on the Field
First 25 Rows




Side Stadium Seats
Sections 152
Stadium Seating Elevated Off Field
View of Both Stages
Club Seats
Sections 234, 241
Inside the Stadium Weather-Protected
Extra-wide, Cushioned Seats w/Leg Room
​Gourmet and Traditional Food and Beverages for Sale
Comfortable Restroom Facilities
More Than 40 Televisions Viewing the Concert
Access to the Air Conditioned Club Lounge
---
Stadium Directions
From I-75 Southbound:
Take Freeman Ave Exit
Continue on Freeman Ave, it will turn into Mehring Way
Take Mehring Way to Parking lot on Right or past Paycor Stadium (Formally Paul Brown Stadium) on the left
From I-75 Northbound:
Take Second Street Exit
Take right onto Elm Street
Take left or right onto Mehring Way
Parking lot is immediately on left
From I-71 Southbound:
From I-71 South take Exit 2, Gilbert/Reading Road
Once you take the exit stay left towards Gilbert.
You will be on the Exit for about a mile, at the end of it you will see the bus station on your right. Make a right onto E. Court just past the bus station at the first light you come to.
Go up about 100 yards and make your first left turn onto Reedy.
Go to the light and make another left turn onto Eggleston.
Take Eggleston until it dead ends & make a right onto Pete Rose Way.
You will now be headed to the stadiums and you will first see the baseball stadium. Before you get to the baseball stadium make a left onto Mehring Way.
Follow Mehring way behind the baseball stadium all the way around to Paycor Stadium (Formally Paul Brown Stadium).
You can either park in the lot next to Paycor Stadium (Formally Paul Brown Stadium) on your right, across the street from Paycor Stadium (Formally Paul Brown Stadium) on your left, under the stadium if available or continue past Paycor Stadium (Formally Paul Brown Stadium) make the first right onto Central Avenue and go past the stadium which will be on your right. As soon as you pass the stadium make a right onto Pete Rose Way and park in the lot on your left.
---
Parking
Parking & Transportation South of Third Street adjacent to the stadium and North of Third Street ranges from $10-$20. West of Central Avenue is limited game-by-game parking.

TANK has the Southbank Shuttle through Cincinnati, Newport and Covington for $1. Parking is also available at the Bellevue Medical Arts Building, in the Newport on the Levee Garage, and in Covington at 5th & Bakewell, Kenton County Garage at 3rd and Madison, Willie's Sports Cafe, and the Embassy Suites Garage.

B & B Riverboats runs a $5 round-trip ride from Newport. Queen City Riverboats has a $3 round-trip ticket from Hooters and The Beer Sellar in Newport.

RV Parking is permitted in parking lots surrounding the stadium. Guests are asked to not block other parking spaces or interfere with other guests. For any questions regarding RV Parking please call Central Parking at 513-946-8100.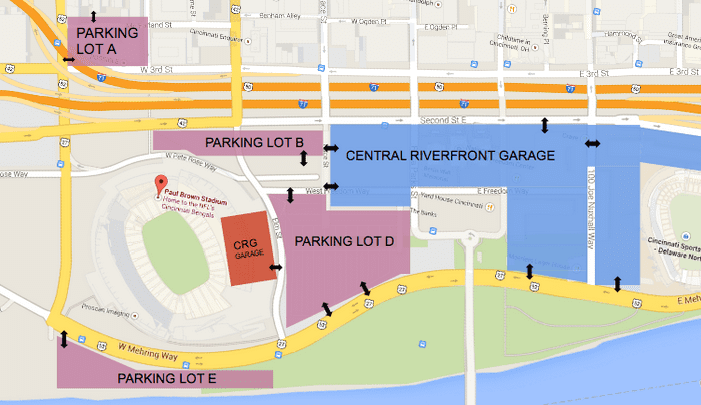 Next Steps…
Make sure you purchase your tickets/package and join/update our email list below to stay updated. Save the dates, reserve your vacation days and start saving your cash. Plan your wardrobe, practice your dance moves and stay tuned.